How to Recover Deleted Photos after emptying Windows Recycle Bin?
I accidentally deleted some of my favorite photographs from my picasa album in Windows and emptied the recycle bin. Can I get back the deleted photos from Windows?
Accidentally deleting files and emptying the recycle bin is possibly the most common cause for losing photos and other file types from Windows hard drives, digital cameras and other electronic devices. Usually out of confusion, users delete important files and folders considering them as junk. In case of photos, considering them duplicate set of albums or photos users might delete a photo or a folder from a photo management tool. Above this, a full recycle bin could be a sign of clutter to many users and pursuing their natural routine of cleaning they tend to empty recycle bin more often to make their desktop look clean.
However, once a file is deleted and emptied from a recycle bin the RAW data awaits the mercy of Windows and the file system (FAT or NTFS) to either use the disk space they are occupying by saving new files over them or leaving them as is till disk has enough free disk space to save new data elsewhere.
You can restore data deleted from Recycle Bin using Recycle Bin Recovery Software. It is one of the best and the fastest software available in the marketplace to find and recover deleted photos from large capacity hard drives, memory cards, USB drives including SD cards, compact flash cards, multimedia cards and XD cards. The software can also restore excel files lost from Recycle Bin folder after Recycle Bin bypass.
Simple steps to recover deleted photos from Memory Card with Undelete
Download Recycle Bin Recovery Software to any partition / drive that is safe and from where you are not planning to recover deleted data. This ensures that you are not overwriting the deleted by saving, downloading new files to the partition / drive from where deletion has happened. You can download and install the software to any partition using Recycle Bin Recovery Software simple to install setup. The software supports Microsoft Windows 7, Windows Vista, Windows XP, Windows 2003 or Windows 2008
Log in to your Windows as Local System Administrator, disable the UAC account (Do not notify) to install the software
You must check system requirements to ensure that you are meeting the hardware or other necessary requirements to run the software effectively.
How to use Undelete
Step 1: To launch the application, click Start, point to Programs and select Recycle Bin Recovery Software or double-click Recycle Bin Recovery Software icon on the desktop. From the three options provided, select the "Recover Files" option as shown in Figure a, to recover deleted photos after emptying Windows Recycle Bin.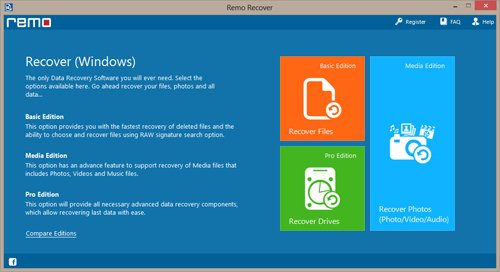 Figure a: Main Window

Step 2: Select the "Fast File Recovery" option from the next window to recover deleted photos from the drive / partition on which the operating system has been installed and proceed to Step 3 as shown in Figure b. To recover deleted photos by manually selecting the drive / partition, choose "Advanced File Recovery" option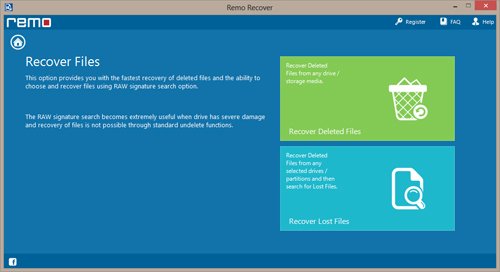 Figure b: Select Fast File Recovery
Step 3: Once you click "Fast File Recovery", the software starts scanning the drive / partition on which the operating system has been installed. Once scanning is completed, the software displays all the recovered files. You can view the recovered photos using the Data View / File Type View options, as shown in Figure c.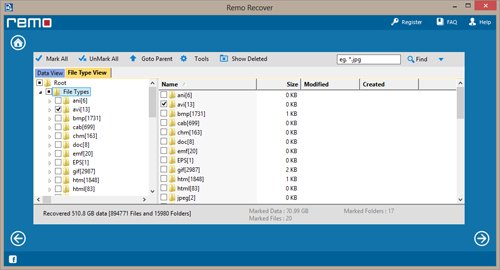 Figure c: View Recovered Photos
Note: Save the recovered data to another healthy drive / partition. Never download or store new data to the drive from where you want to recover your deleted data